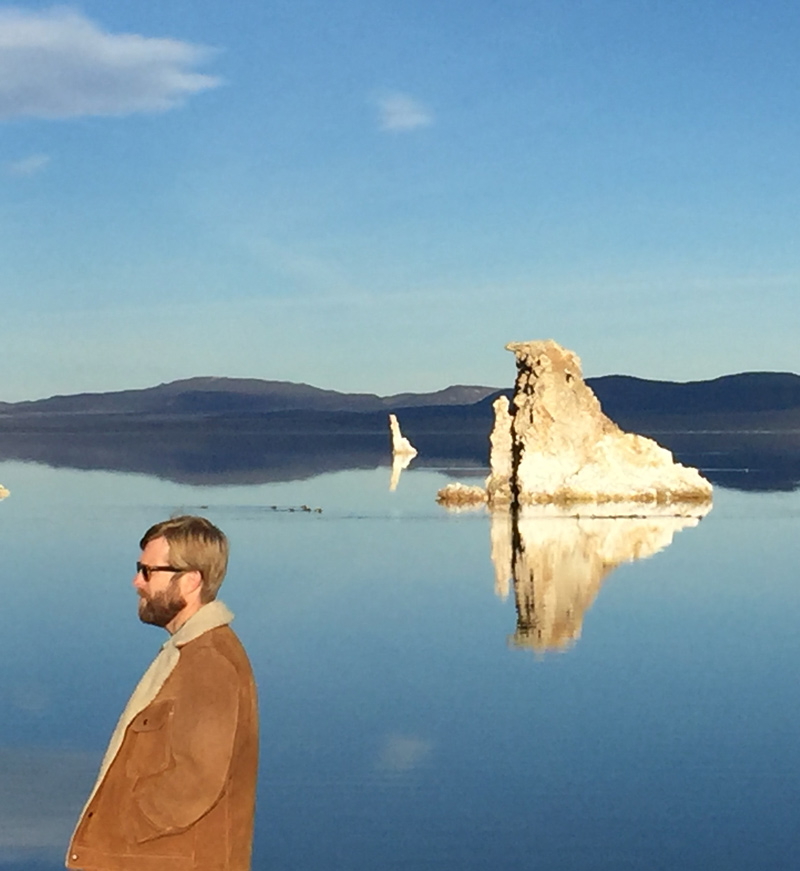 Justin Moore lives and works in Los Angeles and the Mojave Desert. His artwork has been exhibited internationally and is in the permanent collection of the Whitney Museum of American Art in New York City.
Justin is also a certified permaculture designer and active board member at the Joshua Tree Foundation for Arts and Ecology, home of Lou Harrison House.
As Co-founder and Design Partner at Moore Boeck, Justin has directed hundreds of digital design and technology projects for NASA and Jet Propulsion Laboratory with a focus on Earth and climate science.
CV
OCCUPATIONS
2017-present
Permaculture Designer, Los Angeles and Mojave Desert, CA
2009-present
Co-founder/Design Partner, Moore Boeck Inc., Los Angeles, CA
Affiliate, NASA's Jet Propulsion Laboratory, La Cañada Flintridge, CA
1996-present
Artist
2002-2008
Artist, represented by Cirrus Gallery, Los Angeles, CA
1999-2002
Director of Motion Media, Tree Media Group, Santa Monica, CA
PROJECTS AND SOLO EXHIBITIONS
2021-present
Joshua Tree Residential, Joshua Tree, CA
2020-present
Moore Boeck Studio, Los Angeles, CA
2017-present
Moon Cocoon, Pioneertown, CA
2011-present
Los Angeles Food Forest, Los Angeles, CA
2009-present
NASA / Moore Boeck Inc., Los Angeles, CA
2009
Exotic Big Game Hunting, POST, Los Angeles, CA
2007
Time Machines and Paranoid Landscapes, Cirrus Gallery, Los Angeles, CA
2006
Valis the Infinite Rider, Armory Center for the Arts, Pasadena, CA
2004
Genesis, Cirrus Gallery, Los Angeles, CA
2003
Art Chicago Project Space, Chicago, IL
2002
Tectonic, Cirrus Gallery, Los Angeles, CA
Bartok Nautilus, Mario's Furniture, Los Angeles, CA
Scope Art Fair, Miami, FL
1998
Justin Moore, The Latin American Club, San Francisco, CA
1996
Drawings, College of Creative Studies Gallery, UC Santa Barbara, CA
1994
work, College of Creative Studies Gallery, UC Santa Barbara, CA
SELECTED GROUP EXHIBITIONS
2010
Infected Eye, POST, Los Angeles, CA
2009
The Fuzzy Set, LAXART, Los Angeles, CA
2008
The Unruly and the Humorous, Angles Gallery, Santa Monica, CA
Drawing Los Angeles, Center for the Arts, Eagle Rock, CA
2007
Installation at Fox Studios, curated by James Elaine/Hammer Museum, Los Angeles, CA
Scope Art Fair, Miami, FL
Sister City Love Slam, curated by Tulsa Kinney, Berlin, Germany
Unhinged, curated by Michael Dee, A Friendly Place, Los Angeles, CA
2006
Contemporary, videos from L.A. curated by Maria Rosa Sossai, Magazzino D'Arte Moderna, Rome, Italy
Videoformes, curated by Rosanna Albertini, Clermont-Ferrand, France
ArtNight Pasadena, screening of Bartertown at One Colorado Plaza, Pasadena, CA
Pleineir, Torrance Art Museum, CA
Scope Art Fair, Miami, FL
2005
Aqua Art Fair, Miami, FL
Sunland Survival, Justin Moore and Jim Ovelmen, Antai Gallery, Los Angeles, CA
Little Things, curated by Heather Brown, Blue 7 Gallery, Los Angeles, CA
Fineline, Cirrus Gallery, Los Angeles, CA
The Picture I Carry in My Head, curated by Terri Phillips, Cirrus Gallery, Los Angeles, CA
2004
Incognito, Santa Monica Museum of Art, Los Angeles, CA
Arboretum, Cirrus Gallery, Los Angeles, CA
Mario's Last Picture Show, Mario's Furniture, Los Angeles, CA
Scope New York, NY
Group Show, Western Project, Los Angeles, CA
Mail-in Show, London Street Projects, Los Angeles, CA
New American Paintings, Pacific Coast Edition
2003
In the Shadow of Summer Bliss, Cirrus Gallery, Los Angeles, CA
Scope New York, NY
2002
Landscape, 01 Gallery, Los Angeles, CA
In Your Face, Mario's Furniture, Los Angeles, CA
2001
The Little Show at Mario's Furniture, Mario's Furniture, Los Angeles, CA
Coppos Films, curated by Chloe Zeigler, Los Angeles, CA
l*AND*sc*APE, curated by George Raggett, Cirrus Gallery, Los Angeles, CA
Canal St., curated by Hung Tran, New York, NY
2000
Wall Space, Miller Durazo Gallery, Los Angeles, CA
Motorcycle, Justin Moore and Darrin Little, 6309 Hollywood Blvd., Los Angeles, CA
1998
Emerge, Gen Art, San Francisco, CA1997
April, Crockett Rodeo, Seattle, WA
Work, College of Creative Studies Gallery, Santa Barbara, CA
CURATORIAL PROJECTS
2010
Infected Eye, POST, Los Angeles, CA
2004 - 2016
Infected Eye artist website portal
2003
In the Shadow of Summer Bliss, international video program, Cirrus Gallery, Los Angeles, CA
EDUCATION
2019
Permaculture Design Certification
Joshua Tree Foundation for Arts and Ecology
Instructed by Warren Brush
1996
BFA College of Creative Studies, Painting
University of California at Santa Barbara
REVIEWS
2007
Artillery Magazine, Justin Moore at Cirrus Gallery by Eve Wood, Summer Issue
2002
Los Angeles Times, A Study of Violence on Two Levels by Holly Myers, October 11
Artweek Magazine, November Justin Moore at Cirrus Gallery by Craig Stephens, September
1998
Artweek Magazine, September
The San Francisco Chronicle, July
The San Francisco Bay Gaurdian, July 22
1997
The Stranger, Seattle, WA, April 17
INSTITUTIONAL COLLECTIONS
Whitney Museum of American Art, New York